Updated: Jul 10, 2022
The terpene menthol, also called peppermint camphor, was first isolated in 1771 by German physician and chemist Hieronymus David Gaubius. In 2017, menthol was one of the 200 most prescribed substances in the United States and constituted more than two million prescriptions.
This popular terpene produces an aroma that is overwhelmingly minty, fresh, and cooling in aroma, with a flavor heavily influenced by peppermint. It is used in ointments and creams for medicinal purposes, as flavoring in food, in cigarettes for a cooling sensation, and in perfume for fragrance.
Menthol is produced by cannabis, corn mint, peppermint, spearmint, and other mint types. It can also be produced synthetically (in a laboratory setting) via the hydrogenation of thymol (a member of the phenol family of compounds, a chemical cousin of terpenes). Menthol has been shown to provide a number of wellness benefits, including pain relief (analgesia), antibacterial effects, and skin therapy. It is also an anti-inflammatory and antioxidant. Menthol may also help cancer patients who are undergoing chemotherapy.
The cooling sensation that it provides when inhaled, eaten, or applied to the skin is the result of menthol's ability to trigger TRPM8 receptors, which are partly responsible for the perception of cold. Menthol is produced via the freezing and filtration of peppermint oil.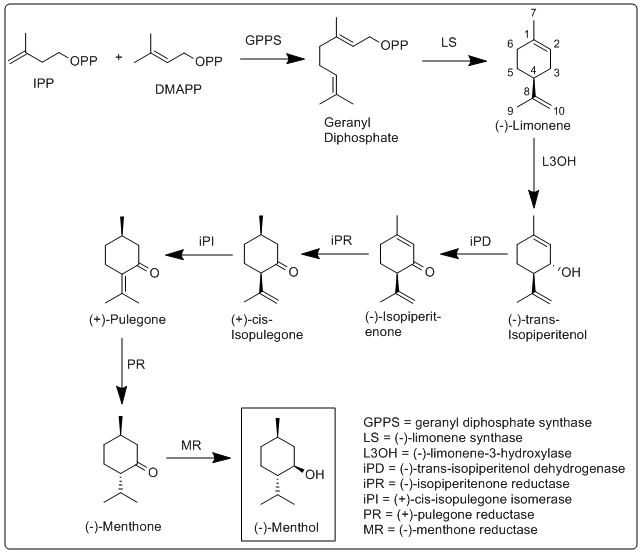 A 2015 study entitled "Cancer Treatment-related Neuropathic Pain: Proof of Concept Study with Menthol" that was published in the journal Support Care in Cancer investigated the potential medicinal efficacy of menthol (in the form of a 1 percent menthol topical cream) in the treatment of neuropathic pain in cancer patients. This study was the first to report an analgesic benefit from a menthol-based topical cream.
The study involved 51 adults with a median age of 61, 63 percent (32) of whom were female. 82 percent of study subjects experienced "an improvement in their pain scores" after four to six weeks of treatment. The researchers also noted a decrease in anxiety. Fifty percent of participants experienced "a clinically relevant reduction in pain scores of at least 30 percent." The researchers noted how the decrease ion pain resulted in "objectively measured physical function," including an increase in walking velocity and cadence.
The study concluded, "This proof-of-concept study indicates that topical menthol has potential as a novel analgesic therapy for cancer treatment-related neuropathic pain."
A 2010 human trial study entitled "Cutaneous application of menthol as an Abortive treatment of migraine: A Randomised, Double‐blind, Placebo‐controlled, Crossed‐over Study" that was published in The International Journal of Clinical Practice explored "the efficacy and safety of the cutaneous application of [peppermint-derived] menthol 10 percent solution for the abortive treatment of migraine." The study also invested the safety profile of menthol when used medicinally to treat humans.
The study involved 35 human patients (80 percent of which were female) and the analysis of 118 migraine episodes (attacks). The study reported that it found the participants treated with menthol to be "statistically superior to the placebo" in delivering and maintaining pain relief.
The report also noted the role of menthol "in the alleviation of nausea and/or vomiting." In addition, this terpene was found to decrease phonophobia (extreme sensitivity to loud noises) and photophobia (sensitivity or intolerance to light).
The study's authors concluded that "menthol solution can be an efficacious, safe, and tolerable therapeutic option for the...treatment of migraine."